Introduction to R, Linear regression & ANOVA – 2 days
R 1 helps you get started with R in the best way possible. This education package contains the two courses, "Introduction to R" and "Linear regression & ANOVA".
We will cover the basics of R, ranging from importing and handling data to running common tests and fitting linear regression models. You also get a solid understanding of modern linear regression and ANOVA models.
Course goals: To be able to use R to import and describe data using graphs and tables. Manage how to fit, visualize, and interpret linear regression and ANOVA models.
Prerequisites: Basic computer skills.
Contains the two courses Introduction to R + Linear regression & ANOVA
Kursinformation
R 1
Course length: 2 days
Language: English
Hours: 09:00-16:30 (CET)
Price: 12 500 SEK excluding VAT
Kurstillfällen
Förhandsbokning
(obestämt datum)
Program
Day 1
HANDLING DATA
Importing and exporting data
Handling variables and observations
Transforming data
Writing R code
DATA VISUALISATION
Common plots
Customizing plots
DESCRIPTIVE STATISTICS
Means correlations, and other descriptive measures
Frequency tables and cross tables
BASIC STATISTICAL METHODS
t-test
Linear regression
Day 2
MODERN STATISTICAL TESTS
Permutation tests
Bootstrap
LINEAR REGRESSION
Fitting and building models
Interactions and dummy variables
Validating models
Visualizing results
Prediction
ANOVA
Fitting models
Validating models
Visualizing results
Information & Frågor
Contact us
E-mail: info@statistikakademin.se
Phone: +4618-410 82 82
Online course
All our online courses are instructor-led and on the Zoom video platform. Course literature and exercises are either distributed in conjunction with the course or delivered through mail well in advance before the course. This information and and other important instructions are found in your booking confirmation after a reservation is made.
Onsite courses
The address and any additional information is announced in an invitation email send out the week before the course. Course literature and exercise material are distributed onsite. Make sure you have access to a computer with the current program installed for the course.
Booking terms
Statistikakademin has the right to cancel any course in the event of an insufficient number of participants. In case of that happening, you will of course be offered a new course date or be fully compensated. You have the right to rescedule and change course dates up to 15 days before the start of the course. If something comes up last minute and you are not able to attend, you can of course send a colleague instead.
Kursledare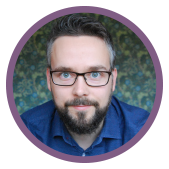 Måns Thulin
Uppskattad utbildare med stor statistisk bredd
Måns Thulin jobbar som konsult och föreläsare inom statistik, maskininlärning och artificiell intelligens. Bland hans klienter finns storbolag, myndig­heter, startups och forskare. Genom att använda avancerad statistisk analys har han löst problem inom en rad olika områden, från antibiotikaresistens till kärnbränsle, från mjölkningsrobotar till personal­frågor, från diskbråck till musikvideor. Han har tio års erfarenhet av undervisning vid Uppsala Universitet och är sedan januari 2018 även gästlektor vid University of Edinburgh. Måns pedagogiska målsättning är att hjälpa alla kursdeltagare att förstå statistikens metoder – statistik ska kännas logiskt och inte som svartkonst.

Köp flera kurser samtidigt och få rabatt!
Boka flera datum själv, köp kurser och ha innestående eller gå tillsammans med en kollega.
2 kurser
10%
På båda kurserna
3 kurser
15%
På alla kurserna
4 kurser
20%
På alla kurserna