Data and graph management with Basic statistics - 2 days
SPSS 1 helps you get started, in the best way possible, with both SPSS and the fundamentals of statistics. The course content is Data and graph management together with Basic statistics. As in all our courses, theory is alternated with examples, own exercises and provides a perfect introduction to both the SPSS program and basic statistics.
Goals: To be able to easily manage and describe a data material using graphs and tables in SPSS. The goals are also for you to understand and to know how to apply basic statistical methods using SPSS.
Prerequisites: No specific requirements for prior knowledge in SPSS.
Kursinformation
SPSS 1
Course length: 2 days
Language: English
Hours: 09:00-16:30 (CET)
Price: 12 500 SEK excluding VAT
Kurstillfällen
Förhandsbokning
(obestämt datum)
Program
Data and graph management

DATA MANAGEMENT
Importing and exporting data
Data structuring
Managing variables
Handling observations
Data transformations
DESCRIBING DATA WITH TABLES AND GRAPHS
Frequency and other types of tables
The most common graph types [Histogram, Scatterplots, Error bar (Mean plots), Box plot, Line plot]
Chart builder
Legacy dialogs
Editing graphs
Basic statistics

BASIC STATISTICAL CONCEPTS
Statistical assumptions about distribution, variance, and linearity
Parameter estimates and confidence intervals
Hypothesis testing and p-values
CORRELATIONS
Pearson's and Spearman's correlation
COMPARISONS OF MEAN VALUES
Students t-test
Proportion test
TABLES AND RELATIONSHIPS BETWEEN CATEGORICAL VARIABLES
Chi-squared test
NON-PARAMETRIC METHODS
Information & Frågor
Questions?
Send us an email or Call us
Online course
All our online courses are instructor-led and on the Zoom video platform. Course literature and exercises are either distributed in conjunction with the course or delivered through mail well in advance before the course. This information and and other important instructions are found in your booking confirmation after a reservation is made.
Onsite courses
The address and any additional information is announced in an invitation email send out the week before the course. Course literature and exercise material are distributed onsite. Make sure you have access to a computer with the current program installed for the course.
Booking terms
Statistikakademin has the right to cancel any course in the event of an insufficient number of participants. In case of that happening, you will of course be offered a new course date or be fully compensated. You have the right to rescedule and change course dates up to 15 days before the start of the course. If something comes up last minute and you are not able to attend, you can of course send a colleague instead.
Kursledare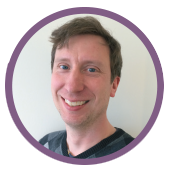 Jonas Selling
Educator with unique statistical knowledge
Jonas Selling is the course developer of Statistikakademins unique educational material. He is a very committed educator who specializes in teaching statistics to researchers. His goal is that every participant, after completing the course, should be able to use SPSS without hindrance.
Jonas Selling has a master's degree in applied statistics and pedagogy from Linköping University.

Köp flera kurser samtidigt och få rabatt!
Boka flera datum själv, köp kurser och ha innestående eller gå tillsammans med en kollega.
2 kurser
10%
På båda kurserna
3 kurser
15%
På alla kurserna
4 kurser
20%
På alla kurserna